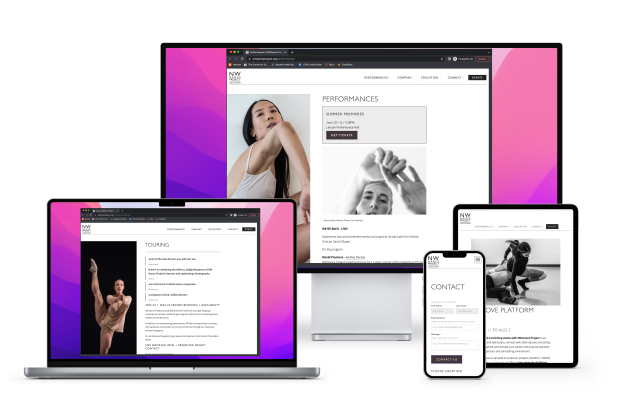 Not every inquiry is afraid that their website could fail; but in this case, it's time to replace. The result was a secure, stable, beautiful website in software that will last, with strength, for years.
We expect years of expandable and flexible service from the site.
Situation
The NW Dance Project has a website in WordPress software that has been moderately successful in its mission, but has become burdensome to maintain. NW Dance Project is seeking a new website that closely adheres to every aspect of its mission, including some successful aspects of the website already in place, code modernization and improvement; on a platform that can handle the flexibility and demands of administration, security and stability.
"It's melting!" they said in our first conversation. It's not that the website had not been useful or served its purpose - it's just that random things breaking had prevented software updates for a number of years. The slow slide of feature viability and the increasingly complicated outlook of the repair path had left them with the impression that the website's days may be limited. Then what? Could this be prevented from happening again? They wanted to know.
They understood our needs concerning functionality and that the aesthetic was to be a reflection of our physical space and artistic framework.
Recommendation
We knew that the first way to help would be to freshly re-build their website in ExpressionEngine or Craft CMS, if only solely for the security and stability of these platforms; addressing their main concern. Yes, if we're going to prevent this again, we start here.
If you have worked with either ExpressionEngine or Craft CMS, you are aware of the ways it can be set up to break way out of the page-and-post structure of WordPress and other blog-centric, web content management systems. Show up for the rebuild, stay for the design. With the Petroglyph UI as our starting point, we adopted a few key brand pointers from the old site. Next, fonts, colors, legibility, minor page features. Thusly went the first design meeting! The front-end or "web design" as people think of it extends into the informational organization of the authorship experience, offering significant preferential publishing options, with respect to DRY principles and respectful of authorship time, while providing near-limitless, yet consistent, tidy, and sleek look and feel.
Goals
Increase legibility on text pages, addressing concerns that information could be hard to find.
Allow for easy, predictable publishing of multiple website features to nearly any page on the website.
Easier, more organized management of images and videos - and feature display for dramatic vertical images.
Escaping the post-and-page paradigm, allowing for more specifically-designed features.
With improved image display and text legibility. We reached for our home-built tool, the Petroglyph UI, and began the design in the HTML code.
Timeline
Start: September 27, 2021
Launch goal: March 15, 2022
Actual launch: April 20, 2022
Why the hold-up? Turns out we needed a round of 8 training meetings in addition to the design meetings.
Very approachable and well-scheduled timeline.
The Result
..the "feel" is just right and well reflective of our arts organization.
We started with the Petroglyph UI essentials - Font, Color Palette, UI, Navigation, page organization. Text, color, and images. The first thing we did was have a design meeting where we showed this initial step to the client, allowing for their immediate review and reflection. In some processes, showing the client the work at such an early stage can be ill-advised, due to the presence of unfinished work or "just ignore that." With the process enabled by the Petroglyph UI, just a few decisions needed to be made before the client is shown an actual web page. Feedback is more useful - being based on real scenarios and interactions with web code, not a design image of a website where only initial appearance may be present. Thusly, there's no suspense of feedback viability. If it comes up, it gets said, and it's excellent.
Aquarian was great at making changes to meet our desires - they never imposed "their will" but did advise on best practices we should consider.
As the project continued we developed more compound features on their Petroglyph UI doc and began to build out their Content Management System, in tandem. Features of the website got considered as both data types and page features We started with ExpressionEngine, but ended up switching to Craft CMS after a cost analysis revealed that both platforms carried similar costs, and as the complexity of the build with the desired flexibility revealed Craft CMS to be a more optimal choice. We're lucky, as a web development shop, to have two secure, stable, scaleable choices for content management.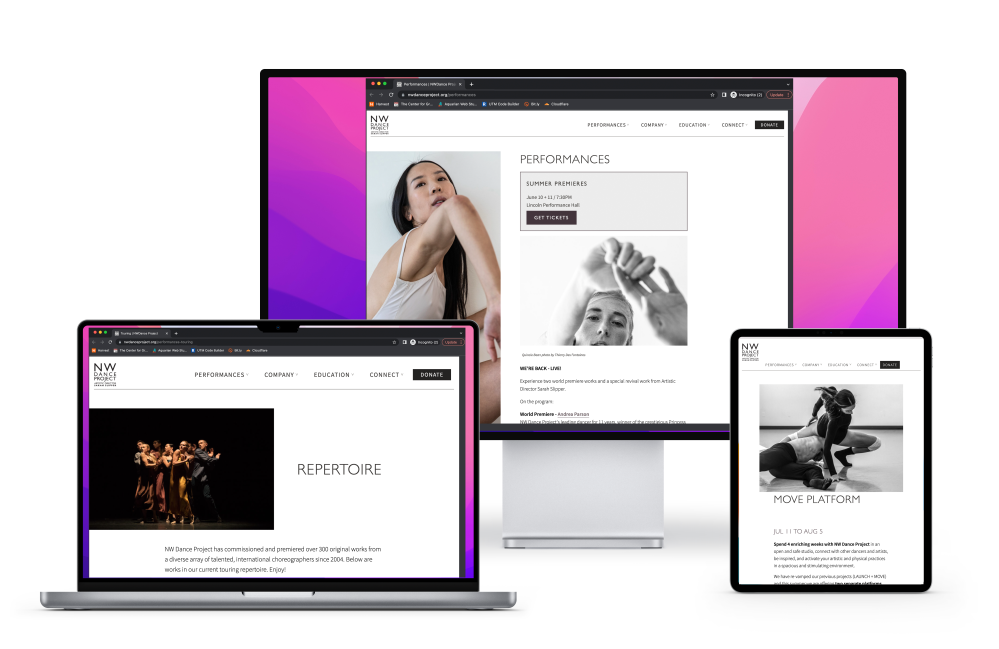 In the design process, the key aspects we designed for were legibility and the display of vertical images. Any image selected as a feature page image needed to display wonderfully - and as a dance company, this client has a lot of vertical dancer portraits to feature. Rather than running the content down the page, we positioned these images to the left side appearing to run off the page. In the event of a landscape-oriented image being used as a lead feature, we positioned the image side-by-side with the page title at the top. We used some of the real-estate around the title for jump menus in some cases - the client deciding what appears here.
Ultimately, the website we built was quite a bit more complicated than their old melting WordPress site, due to so many customizations. We added meetings to guide them through the website, and with each question we had Craft CMS backing us up. Lost content, bloated image directories - with the use of entry versioning, dynamic content search bars, and the Live Preview edit screen, even these complications were no match for this CMS. After putting our design through the absolute ringer, we had nothing but success with our training sessions, which built client confidence until they felt absolutely ready to administer the website on their own.