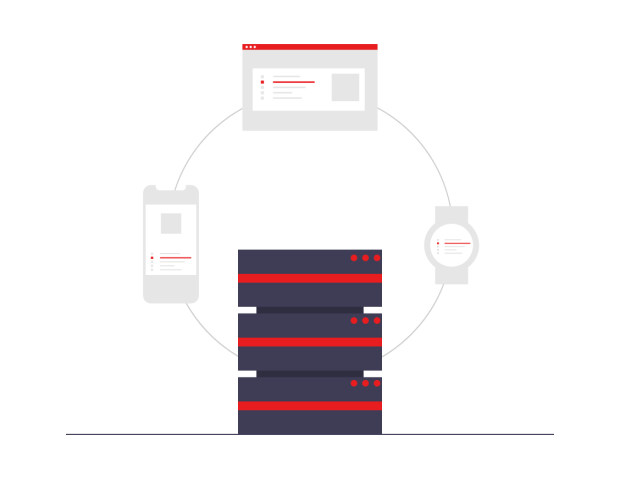 ExpressionEngine CMS development and upgradesIt's not your normal list of web hosts. It's the one that is made of our longstanding, trustworthy connections that have proven to be as dedicated to your uptime and website stability as we are.
Web Hosting: A computer you rent in order to have a website found at a particular address.
It is possible to be your own web host with years of training. If you're reading this, chances are that's not you. It's not us, either.
What we want out of a host
I (Caroline) have been dealing with web hosts since 2003. (Yoursite.com, Bluehost, MediaTemple Oh My!) What is marketable and useful has changed over and over again, and what I need out of a web host has also changed. Once upon a time, I wanted reliable FTP connectivity for my html pages. Then, I met cPanel and - let's face it - any catalog of 100 free apps is enticing. I briefly worked a job where we ran our own webhosting server, but nobody in the office was ever trained to administer it. In the early 2010s, high-quality shared hosting bumped cPanel hosts out of favor, and then VPS hosts over shared hosts, and now - well, we still work with VPS' and cloud solutions just at a much higher scale.
When we host you
We are sticklers for uptime, response time, scalability, and security in web hosts. We work very hard for the website stability of our clients, and only choose web hosts that mirror our commitment to this. On top of this, we also want modern PHP versions (and the ability to scale these ourselves,) a useful control panel, and strong first name basis support when we have an issue. We also prefer the data center be "green" or at least implement some kind of environmental work-back on their carbon footprint. This seems like a lot to ask, but wait - it's really not that bad:
BrownRice in Taos, New Mexico
This tiny but mighty "localhost" specializes in strong value VPS hosting and web cam hosting. Talk about uptime. BrownRice provides affordable, scalable, reliable VPS hosting in a data center that's heavily supported by solar energy. Support requests are never complicated by external ticket logging systems - support is email based and generally responsive within hours. We have been able to test out their WordPress specific hosting (which provides safeguards against its instability) even without officially supporting WordPress in our office. Even though they experience uptime challenges when the wrong person backhoes a pool in Santa Fe (not even where they are,) and cuts the internet line for the whole region, we see their dedication to their customers and their work and continue to recommend them year over year. Prices start at six bucks. Tell'em we sent you.
Digital Ocean servers, provisioned on Ploi
When a client outgrows a VPS system (even the best one) we go straight to the top to Digital Ocean - because when this host goes down, it seems like every internet service goes down; so the client can rest assured that they are in the same boat with some of the most important services in the world and they will be back online soon. Digital Ocean servers need provisioning to add that PHP / MySQL mix we develop with - so we go to Ploi to get a mix of features that make dev-ops (that's a fancy word for sort-of-IT'ing-a-host) easy to approach and manage. We don't get first-name-basis with this host but since we're responsible for such a big piece of what works and what doesn't, the support team is usually just - us. Most of our clients manage their own Digital Ocean servers while partnering with us for provisioning and maintenance.
When we don't host you
We will always recommend the hosts we use but we also know of a few other strong services that we would connect you with:
Arcustech - Fully hosted, high-performing servers with first-name support.
Servd - White glove host specializing in Craft CMS website hosting.
Craft Cloud - or, you can just get your hosting from the Craft people, directly.
What we can't recommend
We would stay away from any host that balks at our workflow needs - SSH access, deployment systems, automated backups, github repositories just to name some aspects. We also balk at complicated support ticketing systems that are difficult to log into or don't allow for us to take on an administrator role as you hire us to advocate for your website. If we need to log in as you, that's a red flag. If authenticating as ourselves involves arcane password keeping or extraordinary steps or password rules, we're out. If we need special permission to gain proper server access, we wonder why the host would have to work so hard to keep bad actors out that they would pass the burden to existing customers. Not all hosts are out there and in business to support modern web development, and that's fine. Not all hosts are trying to cater to a developer experience or website stability. We're looking for those that are. Furthermore, we know that a relationship with a web host can be reliable without being complicated.
High Quality Host, High Quality Results
If you're looking for an expert team to work on your Craft CMS or ExpressionEngine website, you've come to the right place. We advocate for the success of our clients in many areas, from website template code to SEO to social media messaging.