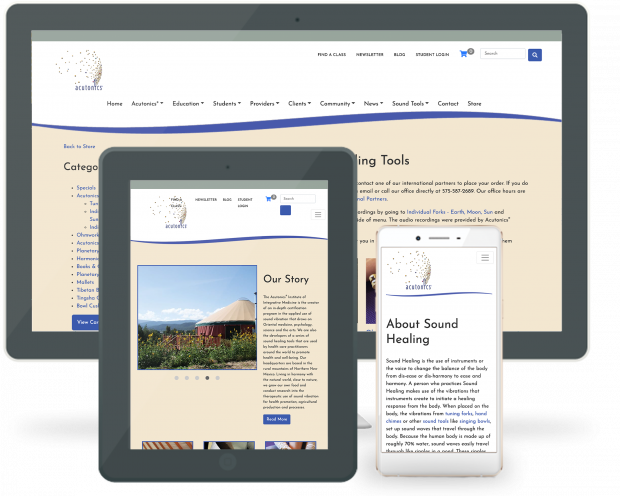 When a company begins a project for you but then bails, it can put the future of the website and its role on uncertain ground. We were called in to complete one of these.
"..skill, grace and extreme competence."
How it started
When we met Acutonics, they had come to a crossroads with an unfinished, redesigned e-commerce website that needed a dedicated development team with extensive ExpressionEngine expertise. A new look and feel had been developed and some products in their store had been migrated to Shopify, a decision the client had not been completely ready to commit to. The team behind Acutonics was aware of what they could see on the screen but was unable to offer a developer's opinion on what needed to be worked on and what had been finished. Ultimately, the new development team would be responsible for client deliverables as well as the implementation of strong under-the-hood solutions while patching all needed unfinished features. We were prepared to deliver the TLC this site had been lacking in its incomplete iteration.
What we did
As a team, we decided to go forward with our goal of launching the new look and feel on ExpressionEngine 5. While we worked on the reorganization of the client's many compelling content areas, the client decided to keep and re-set-up their Cartthrob e-commerce store rather than convert to Shopify, a subscription store application with sometimes unpredictable ongoing fees.
Major Features we implemented
Custom Elavon Converge payment gateway (PHP/XML) allowing Acutonics to continue to use their Elavon Converge / Costco payment gateway.
Custom CartThrob asynchronous cart and checkout that allow for a smooth checkout flow.
Custom class search finder using Low Search allowing users to find classes by instructor, level, and other factors; all ordered by upcoming calendar date.
We added the ability to check out as a guest in the store, without having to sign into an account first, to remove a potential barrier to purchase.
We developed a custom student portal with multiple member-level access points to allow Acutonics to continue to have student contact and post lessons containing proprietary material normally presented in person.
We simplified the student registration process for the website from 5 steps to 2 steps.
The Result
With a reorganized, simplified, modern hub of communication with their community, Acutonics entered into the 2020 holiday season with revitalized sales and class listings. Our ongoing engagement has taken a turn towards engineering the website for the ability to track marketing campaign efficacy and bring Acutonics into the public eye with the authority and poise they have earned, allowing their 25 years of research into sound healing to speak with an even louder voice for the entire sound healing tools industry. While The new website is a reality; and when the software is ready we will begin the short conversion to ExpressionEngine 6 - long term release (LTR) which will provide 5 years of stability within the software version. More secure, more permanent and more tangible - the website is a full partner in the success of Acutonics. Petroglyph continues to provide content strategy objectives in web development, social media, and newsletter outreach.
Client Feedback
We couldn't be happier with the work done by Caroline and her entire team at Petroglyph Creative, especially Niki. They improved every aspect of our website upgrade including all of the processes, back end functionality, and e-commerce solution taking an unfinished website redo to completion. It is not easy to find qualified people to pick up a project that was started by another firm, they did so with skill, grace and extreme competence. We look forward to continuing our work with them.

The addition of Agatha to the Petroglyph Creative team couldn't have come at a better time for our organization. She enhanced our social media efforts with spot on recommendations. After nearly 25 years at the forefront of sound healing education, it was so refreshing to have someone look at our brand presence on line with fresh eyes and make solid suggestions.