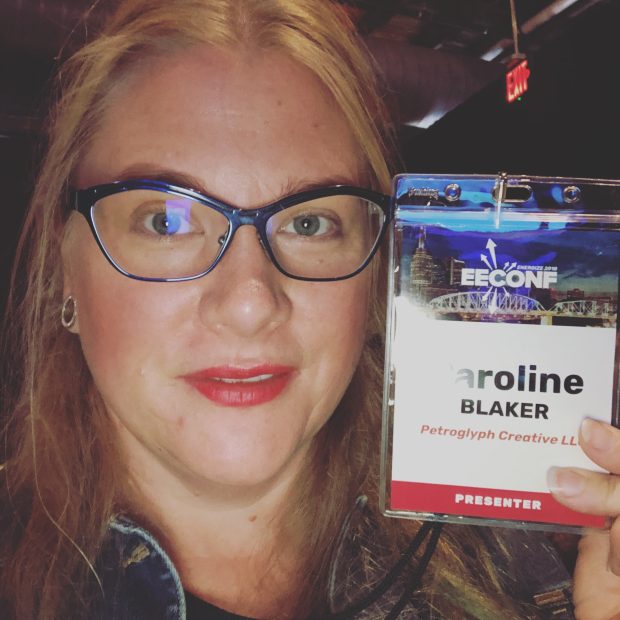 I'm on the flight home from the ExpressionEngine Conference and I'm tired. I'm tired because I'm an introvert who extroverted for 3 days, and because I woke up for my flight at quarter to five. I'm also revitalized, however. I'm revitalized from taking a whole week off of work. I'm revitalized having removed myself from my office to contribute to a shared synergy with my colleagues and friends. I'm revitalized because one of the softwares with which I choose to align my efforts, ExpressionEngine, has revitalized itself with new licensing terms and its surrounding community has organized to the benefit of everyone who does so. It's all good news.
Firstly, the man, the myth Rick Ellis joined us. This person, before my time, departed from active life with the company he founded to market the product he made for Nancy Sinatra like 100 years ago. He hadn't been visibly active in ExpressionEngine nearly ever, and so when he dropped a hint on Twitter that he'd be joining us in Nashville, people didn't believe it. BUT! There he was, and he himself announced that ExpressionEngine was going open source, much to the surprise of the conference organizers and presenters, some of whom had written presentations about pre-current licensing terms. A quick jaunt over to ExpressionEngine.com revealed that the product had already been made free.
Was the product ready for this? Would such a late arrival to the Open-Source community be welcomed or taken seriously? Would known problems that plague popular Open-Source platforms, like ease of hacking or lightyears-long bug lists now be introduced to a platform that was more or less free of these scourges?
As it turns out, Ellislab has been hiring professional investigators to sleuth out and identify possible vulnerabilities in the platform, either to get it ready for open source or just to have the most secure platform out there. Only they know how many times they went through this - but only 4 critical security vulnerabilities have ever been found in ExpressionEngine. It doesn't take opening ones software up to the world to introduce oneself to its vulnerabilities, apparently, only a little cash.
This bodes well for ExpressionEngine avoiding most, if not all normal open-source pitfalls while keeping its distinction as being really really hard to breach (I've never seen it done) Meanwhile, as developers, we can enjoy its implementation on whatever project we choose- whether the client has the ability to pay licensing costs or not. It may also be easier to sell, because despite the pitfalls of Open-Source, there are numerous positives and it has become a buzzword among potential customers who have done some research and have decided it would be a good thing to seek out.
Just like Automattic governs and supports the free, open-source platform WordPress, Ellislab sees a path to profit and sustainability over and above licensing charges. Much of this is a mystery to me as someone who has never worked in a company like this, but clearly, if it's being done by a platform that holds 40% of CMS marketshare and other platforms that have less, it must be legit if done right, and that's enough for me.
Ellislab also announced an initiative to help clients upgrade their websites from version 2 to version 4 in-house. I'm more than ready to let them have this work. I did not hear this announcement (or I was distracted,) so I do not know any other details.
Additionally, Ellislab announced a 3rd-party add-on store coming to ExpressionEngine.com. Good move.
ExpressionEngine's latest version (as of this writing,) EE4, has also introduced a pretty new and interesting way to publish. Clients LOVE it, apparently, and I'm inclined to believe it. Fluid fields allow clients to do their own layouts. Yes, that's right. Someone like me sets up possible text fields, image fields, headline fields (and whatever else) and sets the client free to use these multiple times, in whatever order, in multiples, or not at all. Of course, it would be my job, as the developer, to make sure this is well-coded on the front-end and to assure that any combination of these things that are set up works. Lucky for me I took a workshop at this conference that introduced me to this concept and execution, which grants me unlimited (non-repetitive) direction and support from its teacher at Ellislab.
I would love to be able to venture an educated guess at the impact this weeks' announcements on the future of ExpressionEngine and the businesses that rely on it. I do feel that this change is going to thrust EE into additional usages for which it may not have been initially in line, and with the removed barrier to entry, more developers are going to take a chance on it. Meanwhile, it has the right supportive structures in place to keep new developers happy and moving forward. It's got everything from rush-paid support down to community support in a variety of channels - Slack, Stack Exchange, forums - and now the ExpressionEngine Community Association, an all-volunteer led resource initiative, it's all but assured that this platform has the right stuff. With or without knowing what the future holds - the formula is there - security, flexibility, community, and a whole lot of altruism. Cultures that exude good don't always dominate, and it's impossible to know exactly what the future holds. but I'm proud to promote, lean on, contribute to, and be a member of an online community, however small, that stands on these pillars as its core values.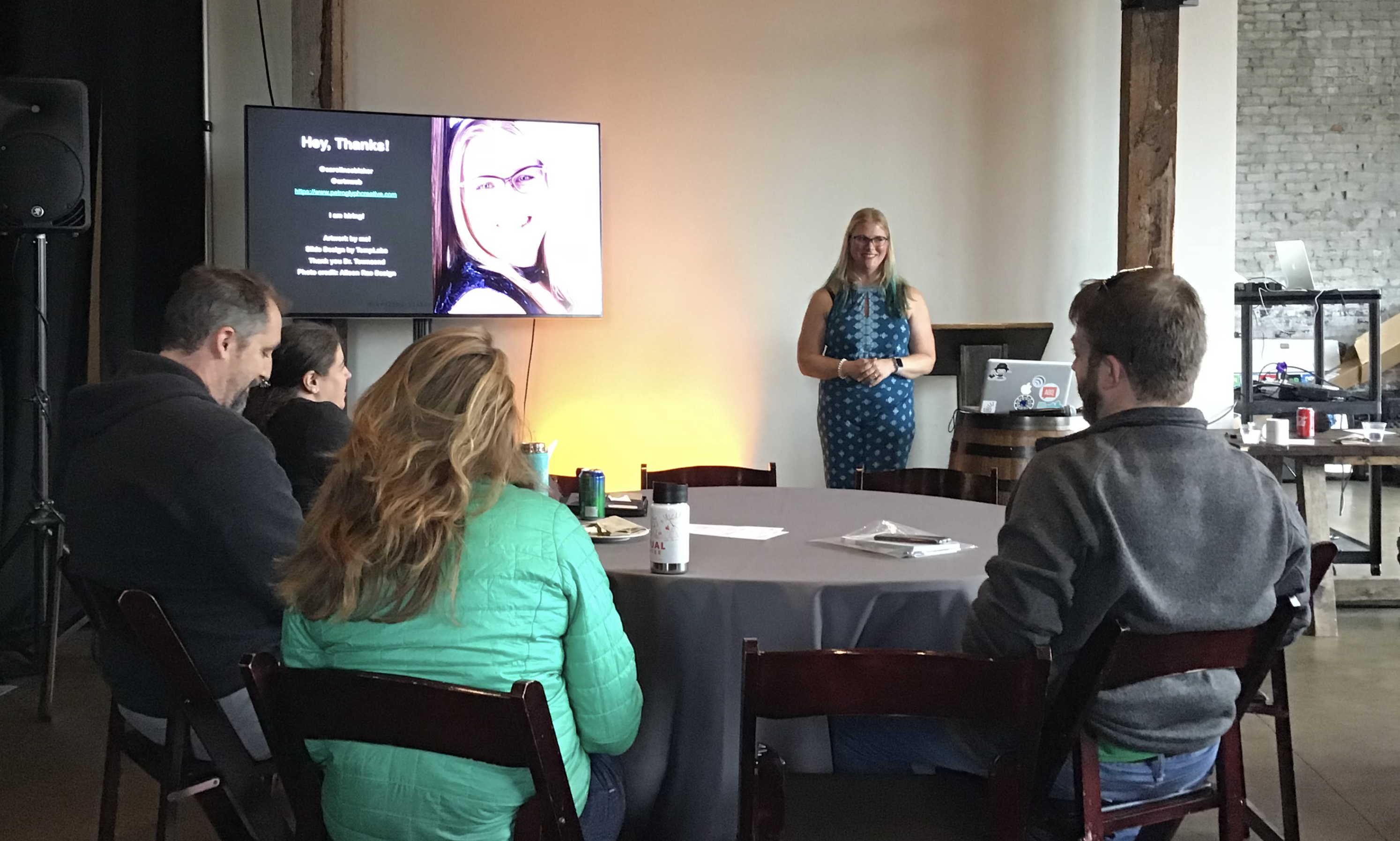 ---
My talk? Oh, right! I presented I Cured My Imposter Syndrome Using This One Weird Trick, which got amazingly positive feedback (at least to my face) like: "It brought the conference up a level." "It made me think." "I really felt it." "We both agreed that we were glad that we did our talk after yours." My audience was somewhere around 20 and included many familiar faces. The room was industrial, high-ceilinged, and had a row of giant windows that looked down on Broadway and the Hard Rock Hotel of Nashville. It was a delight to present at this conference after first attending, and wondering if I would ever be at that level, in 2011. And on top of that, no bugs were encountered during its presentation, and I might have actually been able to help someone.
I'm going home newly excited to work with ExpressionEngine, refreshed from a break, with new abilities and credentials. As the sole person who works for myself all the time, this fundamentally changes and re-energizes my business. Petroglyph Creative will excitedly continue to build, support, improve, and modernize websites in ExpressionEngine as intelligently as possible.