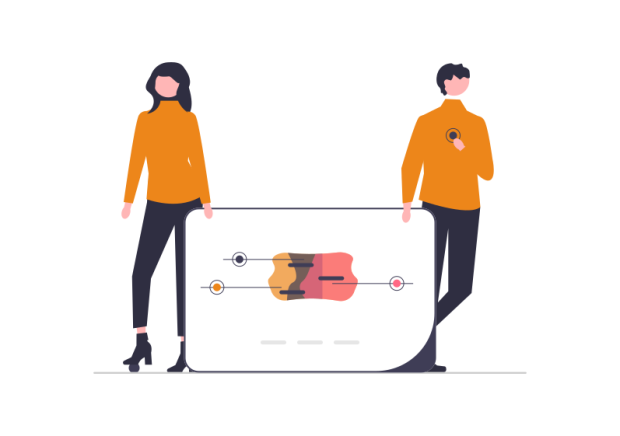 When choosing between Squarespace and Craft CMS to proceed with a website build, you're choosing between convenience and making fewer decisions vs having features and design built to spec. While having fewer decisions to make and an extremely convenient build environment (Squarespace) is often quite enough to start, discovering the parts of the hosted system that don't work for your business often leads to a list of desired features - and a growing business can practically insist on very specific website needs seemingly overnight. It's not unheard of to start in one place and move to another. We are Craft CMS developers who have worked with Squarespace. If you're weighing whether to build your website in Craft CMS or Squarespace - or if you're wondering if a move to Craft CMS from Squarespace could improve your website marketing, I hope you find this helpful.

What's important about Squarespace
Squarespace is hosted. This means that it exists inside a company, on their servers, with their rules, and their speed and performance; that offers self-website-building as a service. When you sign up for the service, the website is ready to go. Not bad if you're just kicking things off! With any hosted platform, it's up to the same team of developers on the inside to deliver features - you can't just add them yourself, or add what you think of - and there are no outside add-on developers. This means that the feature developers are busy addressing concerns coming down from numbers researchers - 80% of the people want this, 30% need a theme that can do this, on and on. No specific concerns for any industry are ever dealt with in a scenario like this, outside of the core focus.
Squarespace addresses a lot of "make it easy to build, make it look good and make it hard to break." No shame in that - but the limits of the 80% or the 30% generally get found and can become arduous to work around as the demands of the business on the website become more specific. Last point here - if Squarespace were to ever go down or be acquired by a party that wants to take it down, this would threaten all sites they host. Furthermore, Squarespace owns what's on Squarespace - nobody else does - so your copyright is to SS not yourselves. Not owning your own website content isn't an issue for everyone, but it might become one.
Squarespace Design and Development
When designing a website on Squarespace, you get to choose a sturdy theme from a catalog - and from there, you just get what you get. SquareSpace as a service makes it easy to edit and make new websites - but you don't get many options. You get layouts - but you can't change colors or fonts. This helps the website appear cohesive and unified but can frustrate editors. There's even very little in the way of drag-and-drop. The code on the front-end is mostly Javascript which means that it doesn't optimize for search engines in meaningful or competitive ways. If you don't need to compete in Search Engine results, this is fine. Otherwise, you may need a more robust solution.
When to choose Craft CMS
Craft CMS is not hosted (but now you can sort-of sign up for this on some hosting providers - so not strictly as true as it used to be.) The code sits on a server. If Craft CMS ever disappeared, your site would continue to exist until something happened - its fate is not tied to the software company. It would just stop receiving updates. Craft CMS does not install with page builders or themes. These are up to a developer to build in, based on the needs of the website being built so from the start, you're getting code and design that's as good as the team you hire. With Aquarian - this means getting optimal SEO options (not just the base layer) along with a beautiful, performant design with every feature you want. With the right team, you'll never run up against issues of the platform being too generic - it's all about your business. You and your development team have access to all the code - the front end, the engine, the libraries from other developers - all of it. The features you need are just a matter of understanding the need and writing the code. This is a lot simpler in the long run than working around generic hosted platform limitations and with the security and flexibility of Craft CMS - it's not really a question of "can you?" but more like "what's it take?"
Craft CMS Design and Development
Craft CMS can use any code on the front-end - so it will need a web design of its own before it goes live. At Aquarian we use the Petroglyph UI to kick this off to make sure the code is modern, easy to work with, and highly performant. The way pages are built and edited in Craft CMS is decided by the kinds of pages the client wants and how the design is built into the CMS. While it's not complicated, results always vary website to website. Page builders are commonly set up to handle the flexibilty needed in the website's function but also locked down enough to keep anyone from accidentally throwing a whole page. Not confident in your website editing or interested in checking the page before sending it live? Craft CMS ships with Live Preview that your developer will set up. Watch your changes take place right inside the website look and feel- they won't go live until you click "Save."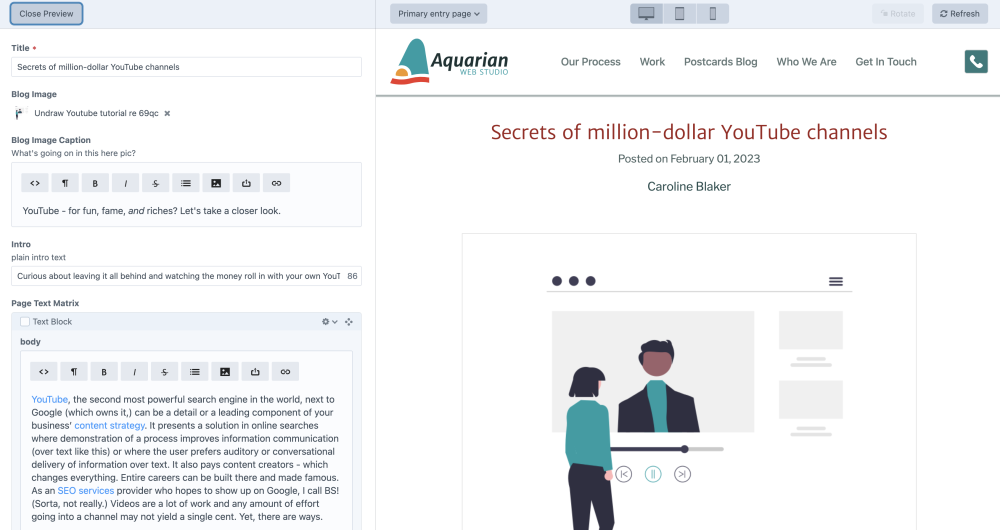 Comparing SEO capabilities with Squarespace vs Craft CMS
In SquareSpace, front end website code is built for convenience, looking good, and the assurance that it won't break in the browser. This has lead all themes that I've ever worked with not to be semantically built for SEO. Furthermore, there are very few text options within the platform to add information for SEO. You can't just add meta tags - all you really get is the chance to name the page after some keywords. This is very minimal SEO adherence but would be ok for anyone not needing to compete in Search Engine results pages.
If you do need to compete via SEO - you need something more robust like Craft CMS. A full suite of SEO features is available with one plugin - which can be configured to "schema" specific pages marking them as locations, how-to's, blog posts, job openings etc - much of which can be configured in the Control Panel. All specific concerns can be addressed in Craft CMS SEO - whereas Squarespace comes with a handful of options at best and nothing too custom or business-specific. Bring this in with semantic, performant code like Aquarian's Petroglyph UI, you get an SEO powerhouse. The two options really couldn't be more different.
We understand that hosted platforms like SquareSpace and Wix have a place for quick turn-around and ease of setup. They've really nailed this niche and it's a good thing. When needing to compete in SEO, appear authoritative over a period of time, or set up any features specific to your business or industry, you're going to need something that does more. For that, Aquarian offers Craft CMS and the Petroglyph UI. No matter how much further your concerns take you - this system will address them all.